I'm not a really patriotic person. I find a lot of flaws in Malaysia, particullarly about our political leaders. Ever since I've got to know more and more about Malaysian politics and reading about news of political parties going at each other like small children, it felt as if Malaysia has less and less hope for a bright, better future. However, I do also believe that with every bad thing, there is a good thing. And if I want Malaysia a better country, I'd have to start by thinking it has a chance for betterment. So, I took this opportunity to find the things we should be happy about for being Malaysians.
shermankuek.net
1.
Despite the fact that we have close to a third world mentality, we are actually doing pretty good for a 45 year old country (
Yes, I said 45 years. I'm talking about MALAYSIA not MALAYA
). At least we aren't in poverty, heavily infested with HIV and AIDS or have
Ah Guas
left, right, front and center.

2. We are most probably the only country that ends almost every sentence with 'lah' when we speak, no matter the language is English, Chinese, Malay or Tamil. Even our Prime Minister is now called Pak Lah!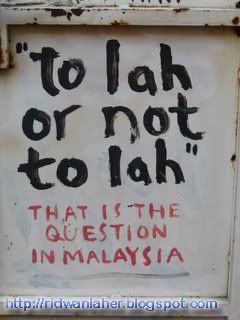 3. Although we have food stalls and restorans open for 24 hours, rate of obesity in Malaysia is quite small.


4. We have holidays for New Year, holidays for Chinese New Year, holidays for Hari Raya, holidays for Deepavali and Wesak, holidays for Christmas, day off for some big shot's birthday, day off for Independence Day, and probably a whole lot more day offs. Don't you love being Malaysian now? =P


5. We always have fireworks available for the afformentioned holidays above.


6. Although we pretty much fail in participating for international challenges in sports, we totally rock in Badminton and Squash!

Taken from usatoday.com & mesra.net

7. We almost always have weird happenings to entertain us. Even political people are interested in each other's sex lifes (if you know what I mean).


8. Sure, there are racial as well as political issues in Malaysia, but what country doesn't? Even tribes in Rwanda had fought agaisnt each other!


9. We have talents like Pop Shuvit, great strong voices like Jac (I don't think anyone in Malaysia topped her yet), sweet faces of Siti Nurhaliza, pretty faces of Amber Chia, good skills of Michelle Yeoh and not forgetting the ever famous historical Princess Hang Li Po. (If you guys would like to add more people to the list, please feel free to tell me and I'll add them right here).


10. We have Kenny Sia. Check out his funny post about What Makes A Malaysian A Malaysian.


Happy Birthday, Malaysia.